I must admit, I'm pretty excited to show off this one. Although it isn't completely finished (is it ever really?), I couldn't wait any longer.

This is what I was working with.



Here is the (almost) final product!



HUGE paint color/shower curtain inspiration came from a fellow blogger & teacher at my old high school. Here is her blog if you would like to check it out. It's the best!

Here are all the paint supplies I used...


The paint is Valspar brand that was color matched to Newburg Green by Benjamin Moore. This was a cheaper route, and since I know the paint mixer at Lowe's he was more than happy to match it for me. :)

For the mirror, I spray painted it with the Rustoleum brand Metallic paint, scuffed it up a little bit with some sand paper I had laying around, and covered it with an antique glaze by Valspar. If you would like to know how I do this process, let me know.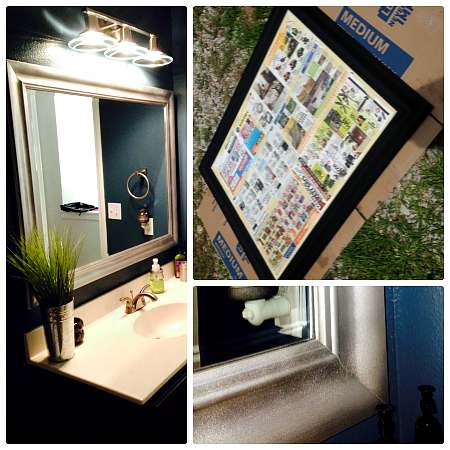 I'm pretty happy with the outcome!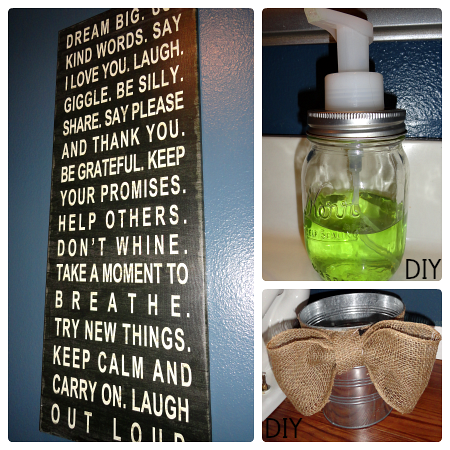 The mason jar soap dispenser is a little DIY I will show you how to do later. It is SUPER easy, and all you need is some good ole' Bath and Body Works soap. I also dressed up our wastebasket with a little burlap and some handy dandy hot glue. Lastly, don't you just love inspirational wall art? It's my favorite.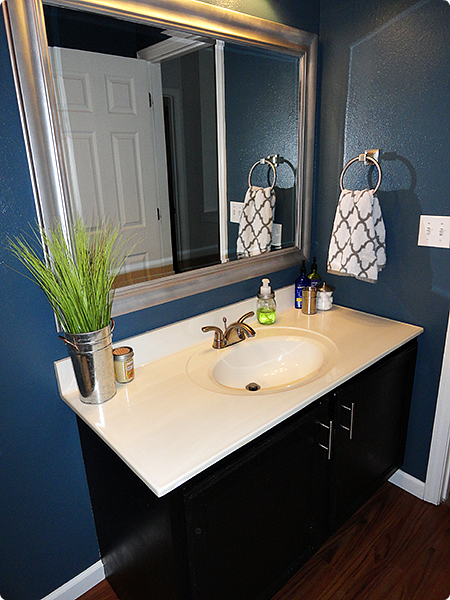 Here is the bathroom from another angle! The adorable vase came from Goodwill for $1.00, and the greenery inside came from Michael's! All of our towels came from TJ Maxx. Oh, and I used some black paint I had lying around and threw some on the vanity. Much better than the white. :) The light fixture is, you guessed it, from Lowe's for a little less than $100.00 and with the help of my helpful husband, it was up within minutes. I love it!

As I said in the beginning, I am almost done. The last thing I am going to do is add some hooks to an old rustic piece of wood, and replace our towel hooks with that. I think it'll add some character! We also plan on adding a canister light above the shower, because although the light it beautiful it's not the brightest. It's great for the ambiance, but not for taking showers!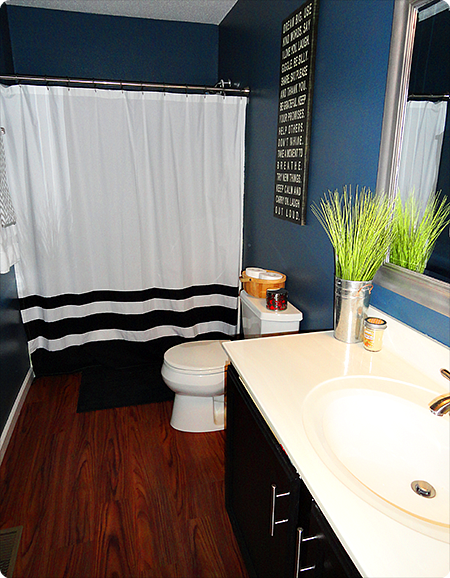 I hope you all like! Let me know what you want to see next!